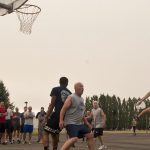 On August 8th, what started as a conversation about a couple of Mighty 1090 employees playing a game of one-on-one basketball turned into a full-scale challenge between Scott Kaplan and Darren Smith:
Which team captain could draft the best team out of Mighty 1090 employees?
Now that the teams are set, they just need a place to play. We're putting together a basketball court at The Big Boys Toy Show specifically so we can see which Mighty 1090 host can put together the best basketball team!
[tweet id="895092861011501056″ align="right"]
Get ready for the game with scouting reports from Jordan Carruth….
OFFICIAL: The rosters for the 2017 @Mighty1090

The scouting reports are in for Team @DSmithShow. pic.twitter.com/9tLqolR5bS

— Jordan Carruth (@JordanCarruth) August 9, 2017

…and now for the scouting reports on Team @ScottKaplan. pic.twitter.com/9GgRAss66F

— Jordan Carruth (@JordanCarruth) August 9, 2017

MORE SCOUTING REPORTS pic.twitter.com/ik5sP1wv4y

— Jordan Carruth (@JordanCarruth) August 9, 2017


https://twitter.com/Interior/status/