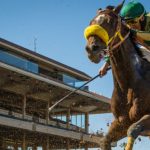 In 2017, with The Big Boys Toy Show being held at the Del Mar Racetrack on September 2nd, we're giving away a pair of the hottest tickets in town: The 2017 Breeders Cup at the Del Mar Thoroughbred Club!
This will be the first time the Breeders Cup, the biggest event in horse-racing, will be held in Del Mar. Every fan of the sport will want to be there!
Stop by the event and follow the signs to see where you can sign up for a chance to win!